QIACHIP
Qiachip 2PCS Receiver module 315MHz /433MHz Universal Wireless receiver module RF Receiver Module Low Power Receiver RX18211*2
Regular price
$5.99
$0.00
Unit price
per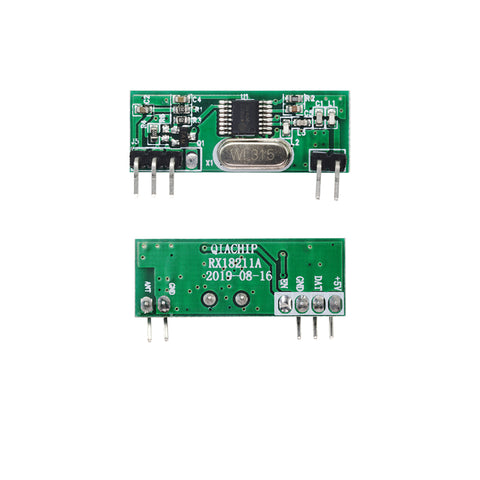 1. Product description
The RX18211 receiving module is a UHF band ASK receiving demodulator and supports ASK/OOK demodulation. The receiving module has high sensitivity
(-112dBm), low power consumption performance (<6mA), and high dynamic range (greater than 60dB). The module uses a highly integrated chip,
Built-in front-end low-noise amplifier, mixer, filter, frequency synthesizer and other circuits, can optimize the signal to the greatest extent.
2. Product features
 Support ASK demodulation mode, the receiving sensitivity reaches -112dBm;
 Operating frequency: 315MHz (RX18211-3) (discontinued)/ 433.92MHz (RX18211-4);
 The receiving bandwidth is 300KHz;
 Power supply voltage input range: 2.0V-5.0V;
 Low power consumption;
     4.58mA / 3.3V @ 315MHz
     5.38mA / 3.3V @ 433.92MHz
 Good selectivity and stray radiation suppression ability, easy to pass CE/Fcc international certification;
 Good local oscillator radiation suppression ability, multiple receiving modules can work together (that is, single transmitter and multiple receivers) and will not interfere with each other, use together
Does not affect the receiving distance;
 The maximum communication rate is 5Kbps, and the recommended communication rate does not exceed 5Kbps;
 Temperature range: -10-60℃, it can work normally even in harsh environmental temperature;
 Ultra-small size 31.5×11.8×1.0 (mm).
3. Application scope
 Application of AC and DC motor products, shutter doors and windows, DC tubular motors, etc.
 Remote key entry system (RKE)
 Smart home, building monitoring automation
 Industrial inspection and control system
 Long-distance RFID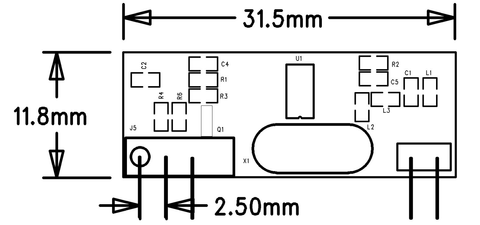 ---
Share this Product
---