QIACHIP
Hi-Link HLK-PM01 ac to dc 5v 3w mini power supply module 220v isolated switch mode power module supply AC100V 220V 230V 240V Conversion DC 5V
Regular price
$3.32
$0.00
Unit price
per
Welcome to our store.
If you need samples, please place order here, we will ship to you soon.
If you need more quantity, welcome to contact us directly, we will provide you best price and best shipping method to you.  
Choose us with high quality and favourable prices.  
Hi-Link latest power supply module, suitable for smart home switch control device, small volume, low current, input voltage range, is the best choice of smart home and IOT.
Product features:
1. The ultra-thin, subminiature
2. The full voltage input (90 ~ 265 vac)
3. Low ripple and low noise
4. Output overload short circuit protection function
5. High efficiency and power density
6. Product design to meet the EMC and safety testing requirements
7. Low power consumption, green environmental protection, no-load loss < 0.1 W
Aging and
8.100% load test
9. Meet the requirements of UL, CE,
10. The quality guarantee period of 1 years.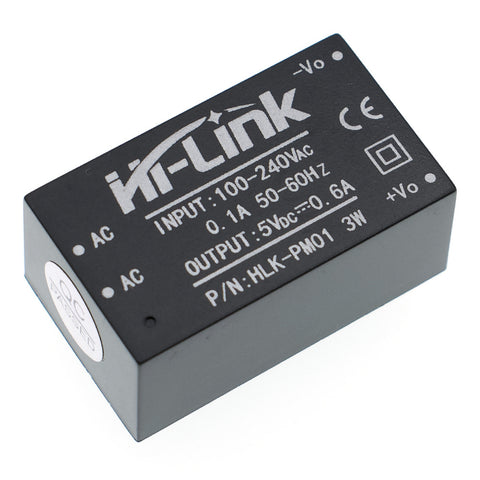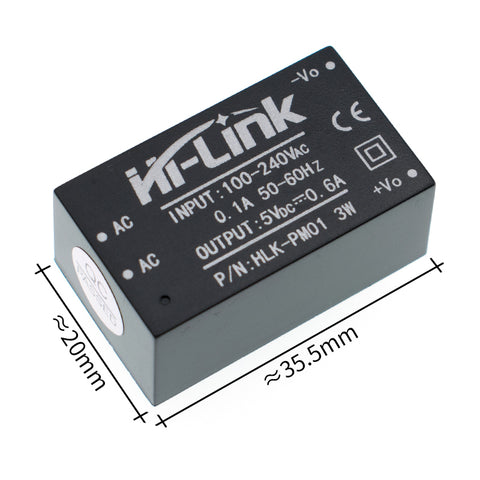 2. Environmental conditions
The name of the project
Technical indicators:Single bit
Working temperature: - 20-60 +degree
Storage temperature: + 80-40 -degree
Relative humidity: 5-95.%
The cooling way: Natural cooling
The atmospheric pressure: 80-106Kpa
The altitude :2000M or less
vibration
Vibration coefficient of 10 ~ 500 hz, 2 g10min. / 1 cycle, 60 min. Each along the X, Y, Z axes
3. The electrical characteristics
1. The input features (test) at room temperature.
The name of the project
The technical requirements:Single bit
The rated input voltage:100-100.VAc
The input voltage range:90-90.VAc
Maximum input current:0.2 or less a.
Input surge current;10 or less a.
Maximum input voltage:270 or less VAc
Input soft start: 50 or less MS
Efficiency of low input voltage: Vin = 110 vac, output with 69 or more %
High input voltage: Vin = 220 vac, output with 70 or more %
Long-term reliability:MTBF 100000 or more H.
No load rated output voltage: + 5 + / - 0.1 VDc
Full rated output voltage: + 5 + / - 0.2 VDc A
short time maximum output current: P 1000 ma
The maximum output current for a long time: P 600 ma
Voltage regulation: + / - 0.2 %
Load regulation: + / - 0.5  %
The output ripple and noise: (mVp - p) 50 or less
The rated input voltage and output load.With 20 MHZ bandwidth oscilloscope,
Load and 10 uF and 0.1 uF capacitance test. The MV
Switch machine overshoot
(rated input voltage, output and 10% load) 5 or less % VO
Output over-current protection
Output the maximum load of 150-200%
a.
Output short circuit protection
Directly to the output of the normal short circuit, short circuit automatically resume normal work after removal
4. Safety features:
4.1 the product design as to meet the requirements of UL, CE safety certification.
4.2 safety and electromagnetic compatibility
The input design USES UL 0.5 A insurance;
PCB board made of double-sided copper-clad boards material is 94 - where V0 fire rating level;
Safety standards in accordance with UL1012 EN60950, UL60950
Insulation voltage I/P - O/P: 2500 vac
Insulation resistance I/P - O/P > 100 m Ohms / 500 VDC 25 degree 70% RH
Conduction and radiation in line with the EN55011, EN55022 (CISPR22)
Electrostatic discharge IEC/EN 61000-4-2 level 4 8 kv / 15 kv
Radiofrequency radiation immunity IEC/EN 61000-4-3 can be found in the application
4.3 safety design temperature
At normal temperature on our power capacitor, main converter so on surface temperature does not exceed 90 degree; the largest
The shell surface maximum temperature does not exceed 60 degree;
5. Logo, packaging, transportation and storage
5.1 marks
5.1.1 product logo
The appropriate placement of the product with logo, its content in accordance with the provisions of the national standards, industry standards.
5.1.2 packing mark
It says on the product packing factory name, address, zip code, product model, year, month, day of production;
Marked with "up" and "moisture" "handle with care", shipping marks, all conform to the provisions of GB 191.
5.2 the packing
Separate packing product adopts special blister box, with functions of vibration control, and comply with the regulations of GB 3873.
5.3 after the transport packaging products to any vehicle transportation, shall have the awning in the transportation, there should be no violent vibration, impact, etc
5.4. Storage products should comply with the provisions of GB 3873.
If you have any question or more information needed,please leave messages here or email to anna#hlktech.com.
Thank you and have a nice day.
---
Share this Product
---