QIACHIP
QIACHIP Bluetooth Smart Remote Control Light Socket E26 E27 Bulb Adapter Switch eWeLink APP Bluetooth 2.4G Smart Lamp Holder Remote Controller Timing Delay QA-DT03 Compatible SONOFF
Regular price
$4.00
$0.00
Unit price
per
【Two remote control methods】 ①Use eWeLink APP or WeChat mini program for Bluetooth control ②Use ALL-on/ALL-off remote control, the remote control adopts 2.4G technology, can pass through the wall, and the longest distance can reach 40 meters.

【Delay and scene setting function】 You can set the function of delay on or off (ranging from 5 minutes to 20 hours), or set the scene (you need to learn the scene remote control after completing the setting).

【Group Control】 Set all smart light bulb sockets as a group and turn off with one key. One lamp head can be controlled by multiple mobile phones. Share it with your family and everyone can easily control it. Great for hard-to-reach lights without an ON/OFF switch

【Gateway linkage】 It can be used with eWeLink smart gateway to realize remote control and voice control (gateway needs to be purchased separately)

【Multiple remote controllers can be added】Up to 4 remote controllers (APP remote controller + RM remote controller) can be added to the switch device, and if more than 4 remote controllers are added, the data of the first remote controller will be automatically covered.
Features
The device is an eWeLink-Remote smart lamp holder that supports app control and a 2.4Ghz remote controller. You can also create schedules and scenes in the app. This is a bluetooth+2.4GHz RM light socket, it can be used with the eWeLink-Remote gateway for Wi-Fi remote control.
[Easy to install, Smart Living]
Ordinary lamp holder + Smart lamp holder + Bulb
Realize intelligent remote control
[Timer and Delay]
The delay can be set from 5 minutes to 20 hours.
e.g. Set the light to turn off after a 5-minute delay.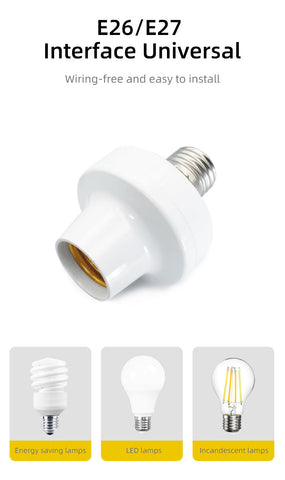 Max. Load
LED lamps ≤ 60 W;
Energy Saving Lamp /Incandescent Lamp ≤ 100W;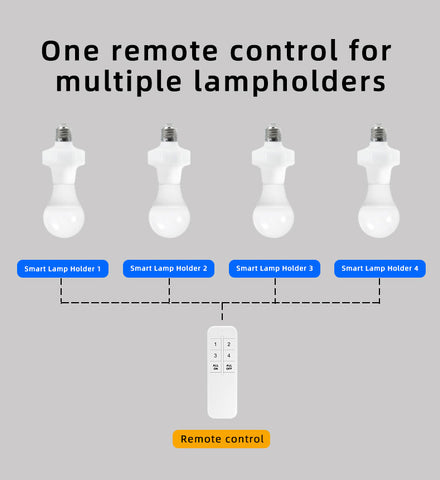 Remote Control ALL ON/ALL OFF
One remote control for multiple lampholders.
The two buttons at the bottom named 'All ON' and 'All OFF' allow you to turn on or off all the buttons above and they cannot learn any other functions.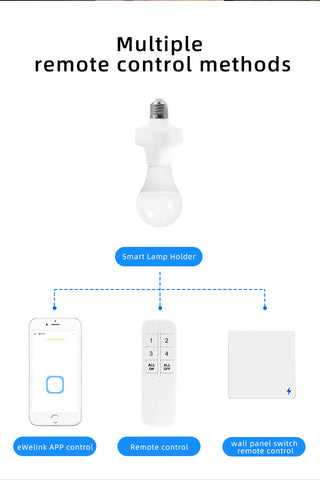 Multiple Remote Control Method
eWeLink APP/WeChat mini program control;
Remote control;
Wall panel switch remote control.
The device can add 4 remote controllers at most (include APP button and RM remote controller),and the fifth remote controller data will automatically cover the first one.
---
Share this Product
---