QIACHIP Store
QIACHIP FLCW | Universal Ceiling Fan and Lights Wireless Remote Control Kit | with WiFi
Regular price
$25.99
$0.00
Unit price
per
[ Update Version ] - Higher Quality, More Stable, Green ABS Environmental ProtectionFit Most Ceiling Fan Lamp.
[ Easy and Fast ] - Installation is very easy and fast, It is a nice looking remote and with rubber textured buttons that are easy to press and it comes with a holster you can mount to the wall.Wireless remote controller kit for ceiling fan lamp .
[ Multi-Functions ] - Includes separate buttons for 3 fan speeds,designed to separately control your ceiling fan speed and light ; Includes wall cradle for handheld remote control,This kit converts regular ceiling fan into a remote controllable one.
[Material] - The transmitter is made of environmental friendly ABS material, larger button is much easier to press. Coming with remote control stand, convenient to put it on table or mount it to wall.

Product Description: QI-FLC is a switch compatible with Mobile App & RF remote control. The RF remote control can act as a fail safe in case there are no internet connections. There are 3 wires which makes it able to control light and fan at the same time. It is also supported with 3 speed control. It is truly a multifunctional modern smart home product.
Notable Functions:a) Support conventional RF remote control & Mobile App at the same time b) Enables Offline RF functions & Online Cloud Functionsc) With Timer functionsd) Support Voice control with Alexa Skills enabledProduct Specifications: Applications: Light

Package list:
remote​​ control * 1 ( battery not include )
remote shelf   * 1
receiver         * 1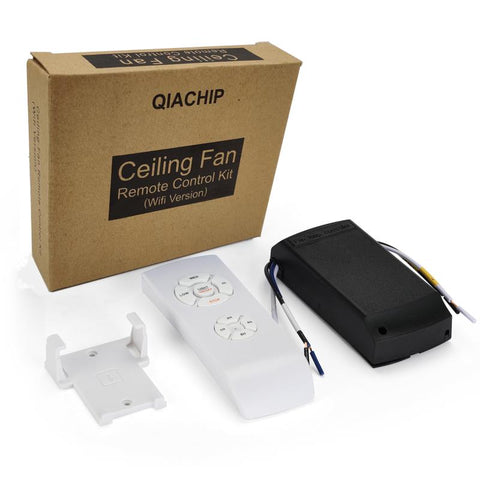 Specifications:
Applications Light/Fan lamp
Model:FLCW-110V/FLCW-220V
Voltage:  AC 110 V-220 V(Depending on model)
Max Load Power <300W / 10A
Standby Power consumption <0.5 W
Working temperature -20℃~80℃
Control Method RF 433Mhz Remote & Mobile App Control
Wiring Method Load & Neutral Wire

Specifications:
Working Frequency: 50-60Hz
Remote Control Distance: More than 20 meters
Support encoding :1527 learning code
Operating mode :1527 remote control

Loading power:
Ceiling Fan: Max 300 W
Incandescent: Max 1000 W
LED light / energy saving lamp: Max 200 W

Please don't over loading!

Remote control Specification :
Battery : AAA 1.5 V battery  X 2 (package not include)
 
Size:
Remote control: 5.2 x 1.97 x 0.7 inch (133 mm x 50 mm x 18 mm)
Receiver: 4.5 x 2 x 1 inch  (115 mm x 52 mm x 25 mm)
Note:Make sure that there is enough space at the top of the fan to install the receiver!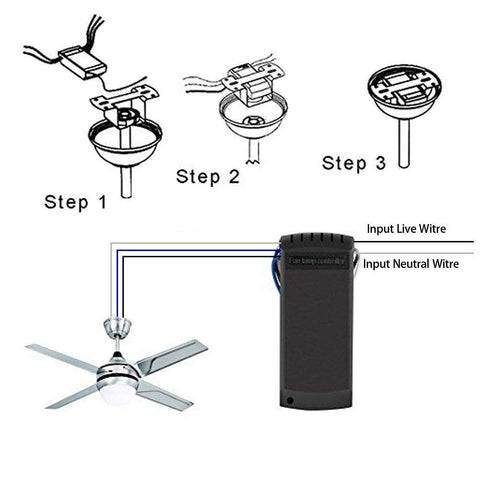 RF Remote Control Pairing Instructions:

(1) Press Light & HI button together within 15 seconds after the receiver has been connected with power (the LED located at the button of the remote control flashes simultaneously) until you hear 3 beep sound from the receiver.
(2) pairing process is completed.


RF Remote Control Clearing/Reset Instructions:

(1) Pick the remote control you wish to reset.
(2) Press the light button 5 times within 15 seconds after the receiver has been connected with power until you hear a long beep
(3) Remote Control resets and are no longer paired with the receiver.

 Turn Your Light NO/OFF with Schedule Timers DIY!
Mobile App Pairing Instructions:
Step one: Initiate pairing status

Method A: Initiate pairing status by Pressing LIGHT & HI together for at least 10 seconds until
you hear along beep sound from the receive or the LED light switch off.

Step two: Finishing the pairing progress in Mobile App

you can search for "smart life" in the app store.Download and Open "Smart Life" Mobile App.
Step 1: If you can control your ceiling fan and lights with the remote control, you can continue to use the "Smart Life" app to connect the controller to WiFi.
Step 2: Open the "Smart Life" app, then Press the + button in the top right corner of the mobile App.  find "Small Home Appliances" in " Add Manually" and select "Fan".
Step 3: After agreeing to "Confirm indicator accelerated blink", enter the "Enter Wi-Fi Password" step and enter the correct Wi-Fi SSID and password; CLICK THE "Confirm" BUTTON. (In step 3, you need to pay attention to the choice of Wi-Fi network can only be 2.4G network)
Step 4: After the loading screen go back to homepage and you should be able to find your device there.



---
Share this Product
---