QIACHIP
Qiachip TX118SA-4 ASK RF Transmitter Module Remote Control 1527 Encoding For Arduino Module DIY 433MHz
Regular price
$3.00
$0.00
Unit price
per
Video Instruction:
Module details: 
Transmitter module :TX118SA-4
Frequency:433.92Mhz
Operating Voltage: DC 3V-24V.
Emission Current: 10MA.
Standby Current: Less Than 3UA.
Transmitting Power: 11dbm.
Modulation: ASK.
Distance: 20-50 M.
Rate Of Fire: Maximum 10KB / S.
Transmit Deviation: +/- 7. 5KHZ / Narrow-band Emission.
Customizable special code: MCU type.Optional fixed encoding type: PT2262 / EV1527 / HT6P20B
Key Data: A, B, C, D groups of 4 inputs can be combined into 15 groups.Standby current: <3UA.
Each module has a unique ID address code.
All modules K1-K4 four key code is the same.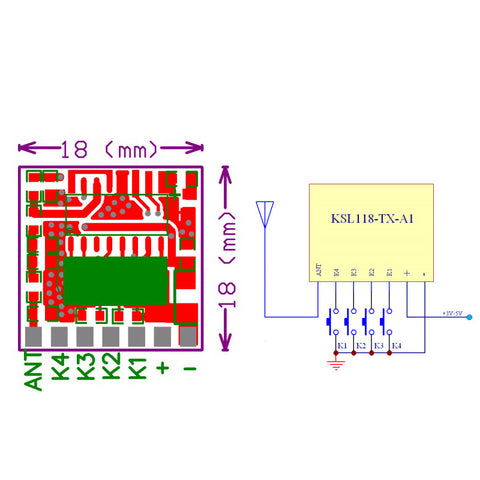 Pin Description:

- : Negative power supply
+: Positive power supply, DC 3-24V
K1: External input keys, short to ground start transmitting data to 1, the A button on the remote control.
K2: External input keys, short to ground 2 start transmitting data, the equivalent of the remote control B button.
K3: External input keys, short to ground start transmitting data 3, the equivalent of the C key on the remote control.
K4: External input keys, short to ground 4 start transmitting data, the equivalent of the remote control D keys.
ANT: transmitting antenna
Applications
1.wireless power switch, socket, remote control switch, receiver module, 2. access control, electric cars, motorcycles, automobile anti-theft products, remote door openers, closers control system 3. security, surveillance systems, home security products, electric doors, alarm host, alarm 4. rooms controls, shutter doors, windows, remote control socket, remote control LED, remote audio remote control electric doors, garage door remote control, remote control retractable doors, remote rolling gates, sliding door 5. smart home products, remote control curtains, remote MP3, audio
---
Share this Product
---