Product Type: KT02-117S-4
Product Type:Learning Code (1527) Remote Control Key Fob
RF Frequency: 433 MHz
Channel Supported: Four Channel
Buttons: Four Buttons
Modulation System: ASK
Battery: CR2032 
Operating Current:12mA
Transmitting Power: 10mW
Transmission Distance: 50m(Please notice that the 100m distance is the ideal distance without any block and signal interfere. It would rise and fall about 10%-50% with the block and signal interference).
Color: Brown
Main Item Size: 6.5 * 3.2 * 1.2cm / 2.55 * 1.25 * 0.47in
Main Item Weight: 28g/o.9oz
Each remote controller has an independent address code, so the remote controllers are separate individuals and do not cause mutual interference.
Applications
Anti-theft alarm system for home and shopping malls; alarms for electric cars, cars, motorcycles, various window controllers and other industrial controllers (supports 1527 encoding format).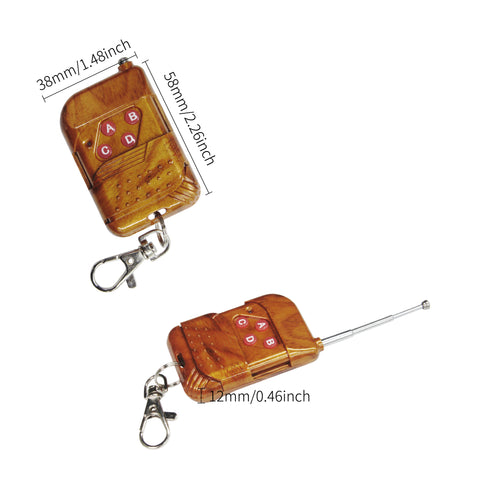 Product Instruction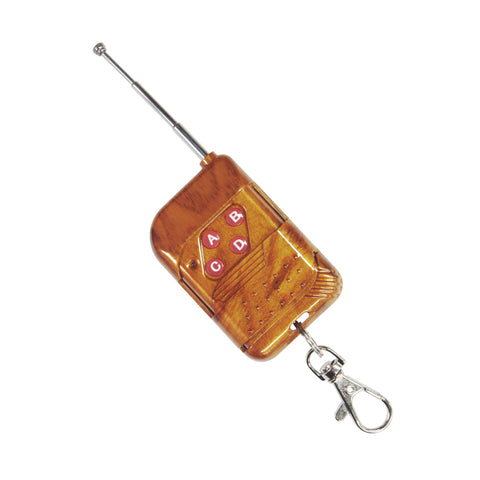 Instruction
Press the remote control button remote control LED light, send code.
Matters needing attention
When the voltage of the remote control is insufficient, please change the battery in time (when the voltage of the remote control is insufficient, the remote control distance is generally shorter).
When using wireless electronic products, be careful to avoid metal masks, large electronic equipment, electromagnetic fields, etc., which have strong sources of interference, to avoid short distances between the remote control and the receiver or failure to work properly. 3. Do not use this electronic product abnormally. Improper use will reduce product performance and life. In severe cases, it will damage the product and bring hidden dangers to your safety.